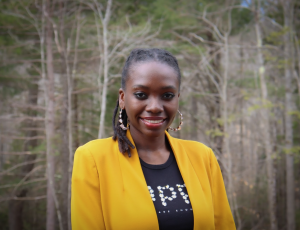 Alphoncina Lyamuya is a doctoral student at the Annenberg School for Communication and Journalism, University of Southern California. Her research focuses on the use and legitimation of emerging digital technologies and automated decision-making systems by governments and transnational organizations in migration management and humanitarian governance. She also looks at ways the digitalization and automation of operational processes in transnational bureaucratic institutions promote – or compromise – digital rights, equity, and inclusion for marginalized and vulnerable communities, especially those in the Global South.
Lyamuya is a graduate student affiliate with the Center for Information, Technology, and Public Life (CITAP) at UNC. She holds a Master of Public Policy & Administration with a graduate certificate in Data Analytics and Computational Social Science, and a BA in Legal Studies with a minor in Political Science from the University of Massachusetts Amherst.
Before her doctoral studies, Lyamuya worked as a research fellow with the Massachusetts Broadband Institute where she examined how data privacy and security concerns, among others, prevented some underserved groups like low-income immigrants from taking part in digital equity programs during the COVID-19 pandemic.