Meet an ARNIC member – Anna Loup
Published on February 22, 2018
by
This week we are putting the spotlight on second year Communication PhD student Anna Loup. Anna has been an active member of ARNIC for several years and is currently working on some very exciting research projects!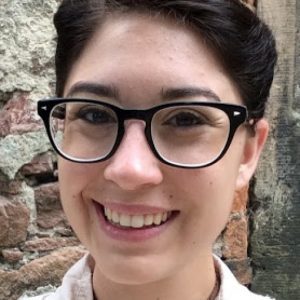 Name: Anna Loup
General research interests: My interests are currently focused on researching the underlying critical infrastructures that enable and maintain digital communication technologies. I am predominantly interested in the power structures inherent in how these critical infrastructure systems are developed, implemented, and maintained at both the policy and engineering levels. 

What projects are you currently working on? I am currently working on locating forgotten histories of key Internet innovators.
Do you have any upcoming presentations? I will be presenting my work focused on creating a framework for collecting and thinking about Internet histories on a global level at ICANN61. I will also be giving a lecture on Gender and the Internet at the North American School on Internet Governance.
Who has been your favorite ARNIC seminar guest? I really enjoyed Thomas Hazlett's seminar last semester. I ordered his book "The Political Spectrum: The Tumultuous Liberation of Wireless Technology, from Herbert Hoover to the Smartphone" straight away afterwards – I would highlight recommend it!
Within the ARNIC network – who's work most interests you and why? I am very interested in the work being done by Jonathan Aronson because I hope to develop work that speaks not only to an academic audience but also can be used as policy recommendations.
You can join Anna at our next ARNIC seminar on March 6th. You can contact her about her research at aloup@usc.edu